As designers and researchers, our job often concerns "small feelings" and the inspiration may arise walking in the wood, playing with children or visiting a museum. Here we will reveal you some inspiring materials.
From now on, we suggest you to free your imagination and brainstorm with us (engineers will then make our ideas land safely). Have fun! J
We went to the last Salone del Mobile in Milan: here below our inspiring material review.
1. The pink fiber that temporaly changes color to white when heated.​
Did you know that our body uses most of its energy to regulate our temperature?
With this in mind, our imagination suggests to use this special fiber to cover aircraft's seats. We could then add a sensor that cools down the temperature, maybe at the same heat of the body, in order to make the seat itself more comfortable, and the trip less hard.
2. The wall design that absorbs noise.
Why are airplanes so anonymous, without decorations? 
A new wall decoration played a major role at the exhibition in Milan. It wasn't a common decoration and most of the proposals we noticed mixed aesthetics with functional solutions.  
Our idea: mix aesthetics with a noise reduction system. 
We could use coloured panels to make the aircraft environment more comfortable and welcoming, enhancing the perception of entering a comfort zone (instead of a travelling zone), and, at the same time, selecting specific sound-absorbing materials.  
The result: a comfortable cabin, colourful and silent. Wouldn't you prefer this one to a normal cabin?!
3. The kinetic, adaptive, wireless stuff.
Objects are more likely to adapt to our behaviour. 
We are on the move. We are instinctive. We are also a bit pampered by the huge amount of new possibilities technology offers us. Our human nature is finally driving designers to create objects that fulfil our will of freedom. 
Tables may adapt their surface to the need of one or more person, lights can be wireless and provide lower or full lighting, adapting their shape manually or even automatically. 
Now let's imagine how different could be our flight experience if our place changed its configuration: we could stand or turn to talk to our neighbour. The small table in front of us could be removable: we could put it on our legs or transform it into a divider. It could become a screen or even a drawing tablet.
We could ask lights to switch on/off, we could replace the spot in order to have the perfect lighting and we could even add a sensor that detects our movement and our need for light (or dark). 
4. Nature as an inspiration.
Nature makes us feel good! Everywhere.
Needless to say, when flying none of us feels in his/her comfort zone: we are human, and normally we prefer to walk free on earth. Natural shapes and environment bring us back to a situation we are used to, making us feel better. 
Our overall perception in the aircraft can be modified and improved thanks to the usage of:  
Natural materials, such as wood.
A surface treatment recalling natural patterns.
The design of objects recalling natural shapes.
5. Sustainable and circular design is a new trend.
Does 'Circular design' sound a bit too technical? 
Let's say it is the attitude to recycle objects, transform them by giving them a second chance to be desirable. For example, at the Salone we saw old dresses transformed into artworks, wallets made by wasted leather and even the fairphone: a modular device, in which exhausted components can be changed. 
RATIOS designers are exploring new ideas for the aircraft interior design that will take into account the possibility to use recycled materials, but above all to create modular solutions, that can be assembled together and easily detached and thus reused. 
We end up our report of the Salone with an important thought that will guide us through our RATIOS journey.
Even though a lot is accomplished, there is still a lot to be explored.
Especially the world of materials still hide a number of unexplored possibilities: would you ever imagine that wood could be so flexible?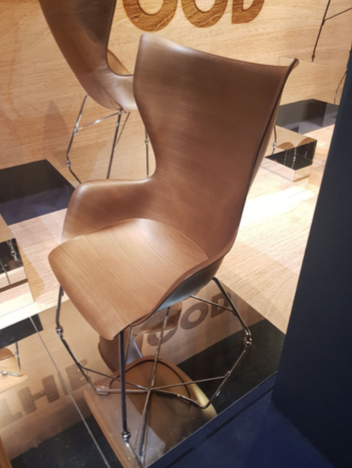 Follow us for more inspiration!