We're at the final level of the game: the winning concept is about to be ready.
In this article, we describe the final design concept for aircrafts interior, that Ratios partners will finalize and bring to life, in order to make the flight experience more comfortable. 
The new concept at a glance
– Seats will be fully adjustable, allowing the passenger to have a comfort experience in seated, semi-seated and standing position.
 
– Personal items will be stored in two different places: hand luggage in a floor hatch, small belongings in a reduced overhead bin.
 
– Lavatories: will be completely different! The aim is to drastically reduce queuing time and hygiene matters.
 
– Galleys will be much smaller, to leave useful space to the rest of the cabin.
 
– Virtual Windows will give us an enhanced outside view.
Let's see in detail how it will be flying in 2035!
Aircraft's seats: more comfortable (and innovative) than your armchair at home.
The three configuration possibilities (seated, semi seated and standing) allow people to change position whenever they like to and guarantee easy access to passenger's seats. 
The headrest is adjustable and neither to say, equipped with a noise reduction system.
Self-cleaning fabrics will lead to a higher level of hygiene.
The foldable table will be equipped with wireless charging station.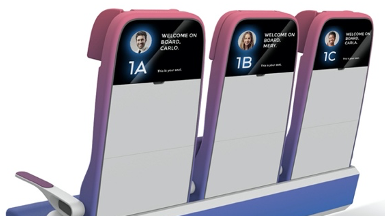 The back-smart screen finally updates its technology, leveraging it to what we are used to "on earth".
It will control air and light, make service calls, scroll through different on board services (food/drink or sale products), toilet booking (yes, toilets will be booked), access to on board entertainment.
The big innovation is the use of sensor, integrating them in the seat itself, to track your biometrics, allowing you to consult real time information about your own travel state (posture, temperature, stress level), and give advice to improve the very personal experience of flight. 
The results are increased comfort and health benefits.  
Luggage management: faster, always at disposal.
Two personal lockers will contain your belongings: a special new luggage compartment, big enough to allocate a hand luggage (55x40x20 cm) will be created under the seats, while the book of the moment, the laptop, the jacket etcetera could be placed in a small overhead bin. Both are always easily accessible.  
Thanks to this layout, the environment of the plane looks much airier, embarking procedures will be faster and people have everything at their hand without bothering the neighbours. Wow! 🙂 
Our keyword for lavatories is 'modular'.
We splitted the space for bathroom and we made two: one contains a collapsible water closet and the other is equipped with a urinal. 
You think it's too small? Not, if the water closet is stored under the basin (or the changing table, it's up to your needs!).  
Advantages: 
– Less waiting times.
– Better hygiene in the water closet module: when not in use, an automated sanitization system will clean its surface.
– Hygiene, again: everything from the tap to the flushing system will be operated through a touchless system. 
Passengers can book the service directly from the seat display, indicating how much time they need. The system will show them the average waiting time and a notification tells when they can approach the lavatory.
and in case of different needs
Since there is the possibility to have passengers with special needs (elderly or small children) the plane will also include a non-splitted restroom. 
Galleys: a revolution in weight and service.
Nowadays galleys occupy quite a big place and consequently are heavy. As long as short term flights need ever and ever less food and service on-board, designers reduced the size of this space (using it for passengers needs!) and re-designed the trolley, which will be equipped with a display helping attendants during the delivery.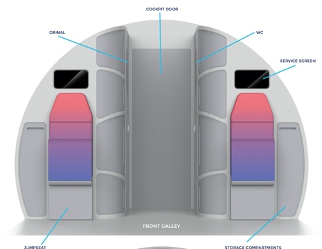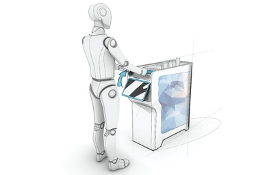 Now: which is your opinion? Which is your favourite idea?
And the one (from former articles) we did not bring to life, but you really loved?
Are you curious to test this new flying experience?